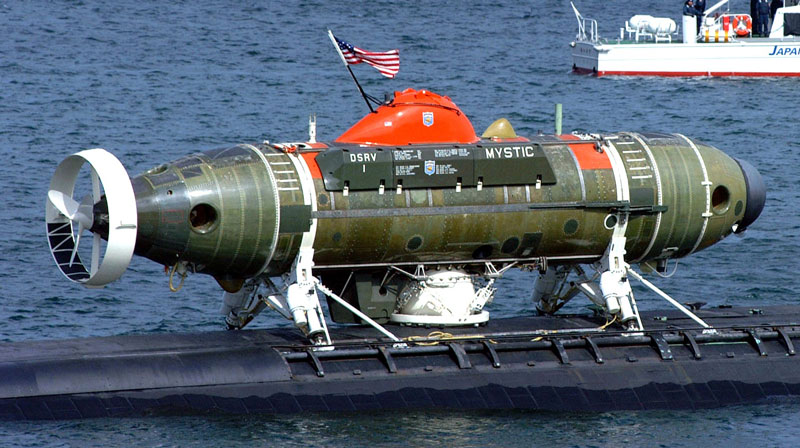 DSRV-1 Mystic is a Deep Submergence Rescue Vehicle. It was built by Lockheed for the U.S. Navy at a construction cost of $41 million and launched 24 January 1970. It was declared fully operational in 1977 and named Mystic.
DSRVs were designed for quick deployment in the event of a submarine accident and are transportable by truck, aircraft, ship, or specially configured attack submarine. The sub was capable of descending to 5,000 feet below the surface and could carry 24 passengers at a time in addition to its crew.
Propulsion and control of the DSRV is provided by a conventional, battery–powered, stern propeller in a movable shroud; and four ducted thrusters, two forward and two aft. The system permits the DSRV to maneuver and hover in underwater currents. The DSRV can attach to a submarine inclined to angles up to 45 degrees from vertical in either the fore and aft or athwartships direction, and exposed to a current of up to 2 knots.
The Mystic was was never required to conduct an actual rescue operation and was replaced by the SRDRS on September 30, 2008. The submarine was donated to the Naval Undersea Museum. [Wikipedia, Navy.mil, bremolympicnlus.wordpress.com]
Builder
Lockheed Missiles and Space Co.
Installed Power
15 shaft horsepower
Propulsion

Electric motors
Silver/zinc batteries
Stern propeller
Four ducted thrusters

Length
49 feet
Beam
8 feet
Displacement
30.5 tons surfaced,
37 tons submerged
Weight
37 tons
Speed
4 knots
Endurance
30 hours submerged at 3 knots
Test Depth
5,000 feet
Capacity
Two pilots
Two rescue personnel
Up to 24 passengers