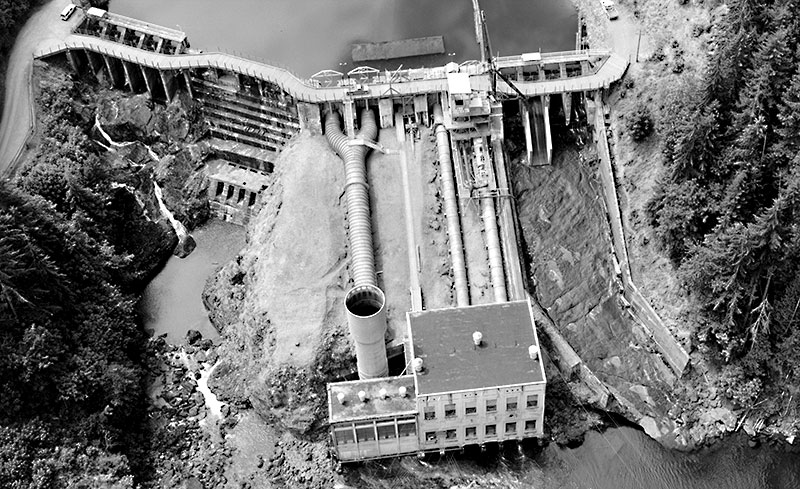 Elwha Dam and Powerhouse
The Elwha River Hydroelectric System consisted of two dams and power plants, Elwha and Glines Canyon, and were located on the northern Olympic Peninsula in Washington State.
Spearheaded by Port Angeles resident Thomas T. Aldwell in the 1890s, the Elwha project typified hydroelectric development in the early twentieth century. When it came on line for Aldwell's Olympic Power Company in 1914, the Elwha power plant was the first hydroelectric facility on the Olympic Peninsula. It supplied power to most of the region's residential. commercial and industrial users, helping to open up the pulp and paper industry in the region after World War I.
To meet the demands of the rapidly expanding pulp and paper industry in the mid-1920s, the Northwestern Power and Light Company (the former Olympic Power Company) built a second power station at Glines Canyon specifically to supply power to the Washington Pulp and Paper Company in Port Angeles.
The Elwha River Ecosystem and Fisheries Restoration Act of 1992 authorized the US Federal Government to acquire the Elwha Dam and Glines Canyon Dam hydroelectric power projects for decommissioning and demolition for habitat restoration. The removal of the first of the two dams, the Elwha Dam, began in September 2011 and was completed ahead of schedule in spring 2012. The Glines Canyon Dam was removed in 2014.