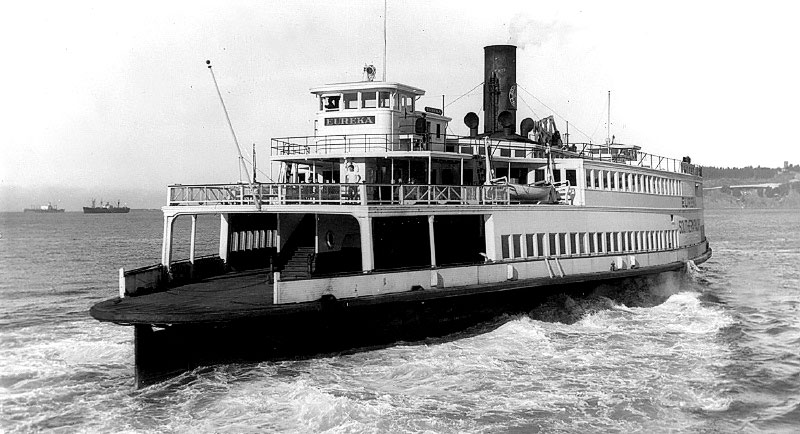 The Eureka is a side-wheel paddle steamboat, built in 1890, which is now preserved at the San Francisco Maritime National Historical Park in San Francisco, California. Originally named the Ukiah to commemorate the railway's recent extension into the City of Ukiah, the boat was built by the San Francisco and North Pacific Railroad Company at their Tiburon yard.
Her walking beam engine was originally powered by coal-fired boilers that were converted to oil in 1905. The engine was built in 1890 by the Fulton Iron Works in San Francisco. It is the only walking beam engine in the United States preserved in a floating vessel.
The ship originally carried commuters between San Francisco and Tiburon during the day and hauled railroad freight cars at night.
As automobiles became more common, motorists wanted to "drive across the bay". Since there were no bridges on San Francisco Bay at the time, the Ukiah was able to meet this demand via a refitted lower deck designed to handle vehicles. The deck above was expanded for passengers.
The Eureka has been designated a National Historic Landmark. [Wikipedia]


Wheel House


Passenger Deck


Auto Deck


Electrical Room


Crank Shaft (Top)


Engine Control Room


Crankshaft (Bottom)


Machinery Casing

| | |
| --- | --- |
| Overall length | 299.5 feet |
| Extreme Width | 78 feet |
| Gross tonnage | 2,420 |
| Horsepower | 1,500 |
| Passengers | 2,300 |
| Automobiles | 120 |