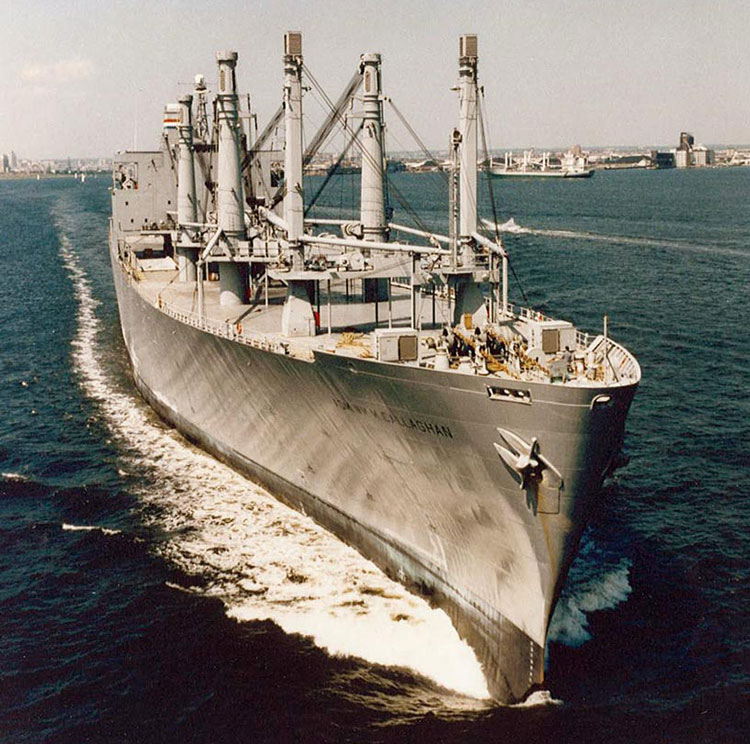 The GTS Admiral W. M. Callaghan is an early roll-on/roll-off (or Ro/Ro) vessel and the first all-gas-turbine vessel constructed for the U.S. Navy. Built at Sun Shipbuilding and Dry Dock in Chester Pennsylvania, ADM Callaghan was launched on October 17, 1967 and went into service on December 19, 1967 under charter to the Military Sea Transportation Service (MSTS), the predecessor to the U.S. Navy's Military Sealift Command (MSC).
The Callaghan is a Roll-on/roll-off (Ro/Ro) type. Ro/Ros are vessels designed to carry wheeled cargo that are driven on and off the ship on their own wheels or using a platform vehicle.
Although primarily employed as a Ro/Ro, ADM Callaghan is also fitted with conventional cargo gear for lift-on/lift-off operations. The ship is fitted with two 120-ton capacity booms and 12 five-to-ten ton capacity booms serving the cargo holds. The ship has 167,537 square feet of vehicle storage space arranged on several decks, with internal ramps and watertight doors providing access to the lower decks and between the cargo holds. Vehicles are loaded and unloaded through four side ports and the stern ramp, with a throughput of approximately 750 vehicles per day.
Callaghan was originally fitted with two Pratt and Whitney FT-4 engines of 25,000 SHP each, providing a service speed of over 20 knots. The FT-4 engines experienced many technical problems, and by 1969 they were replaced with the first production examples of the General Electric LM-2500 marine gas turbine.
The ship was named after Admiral William M. Callaghan who was the commissioning captain on USS Missouri and later was the first head of the Military Sealift Command (at the time called the Military Sea Transportation Service).
Keel laid
1966
Delivered
1967
Builder
Sun Shipbuilding and Dry Dock Co
General Type
Roll-On/Roll-Off
Length
694.5 feet
Beam
92 feet
Draft
28.9 feet
Mast Height
156 feet
Net Tons
19,156 tons
Gross Tons
24,471 tons
Cargo Capacity
114,401 square feet
(up to 750 vehicles and cargo)
Propulsion
Two LM2500 gas turbines
Propellers
Two
Speed
21+ knots
Crew
33 (when activated)



Inboard Profile