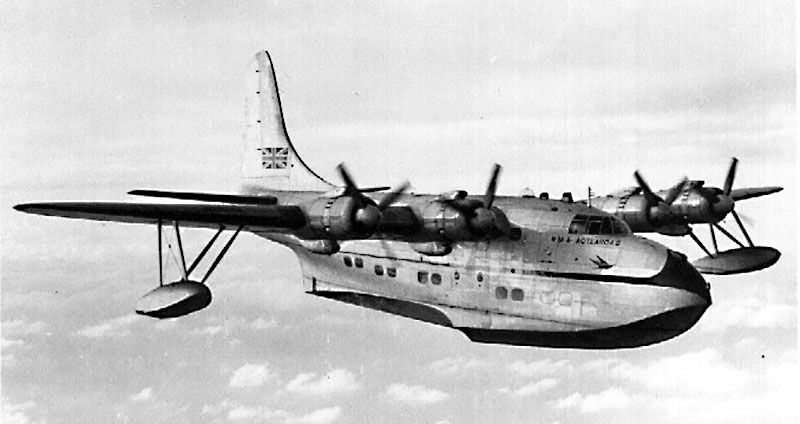 The Short Solent is a passenger flying boat produced by Short Brothers in the late 1940s. It was developed from the Short Seaford (Short Sunderland) military flying boat design.
The Solent is a high wing monoplane of aluminum construction. Power was provided by four Bristol hercules engines. This Solent III was flown by BOAC and could carry 34 passengers and 7 crew.
In August 1947 this plane was transferred to the Short Brothers plant in Belfast, Ireland along with 5 other Seafords. All were converted to 34 passenger Solent Mark 3's, sold to the ministry of supply and in turn leased to British Overseas Airways Corporation. The Solents were scheduled to take over the route from London to South Africa then being flown by 18 passenger land planes. In March of 1949, NJ 203 was registered to BOAC and named "City of Cardiff', and on May 17th initiated service on the 4-1/2 day flight between Southampton, England and Johannesburg, South Africa.
The route was flown during daylight hours only, with stop-overs at night in Agusta, Sicily; Cairo, Egypt (anchoring on the Nile River); continuing south with a stop at Lake Victoria. This trip was 5600 miles and the cost per passenger was 295 pounds sterling or approximately $1,400 US. With the rapid development of long range land planes and associated airports, the graceful flying boats were soon made obsolete. The last flight on a Solent flying boat on that route left Southampton on the third of November 1950.
Wing Span:
112 ft. 9 in.
Length:
87 ft. 8 in.
Height:
37 ft. 7 in.
Weight (empty):
47,760lbs
Weight (full):
75,000lbs
Fuel Capacity:
3168 US gal.
Fuel Consumption:
90 gals. per hour
Engines:
Four 1600 HP supercharged bristol hercules 637V
14 cylinder twin row radial sleeve valve
Propellers:
Dehavilland 4 blade -constant speed, full feathering
147" diameter
Flight Crew:
Captain, First Officer, Navigator,
Radio Operator, Flight Engineer.
Cabin staff (3)
Passengers:
34
Cruising Speed:
220 mph
Range:
2100 miles