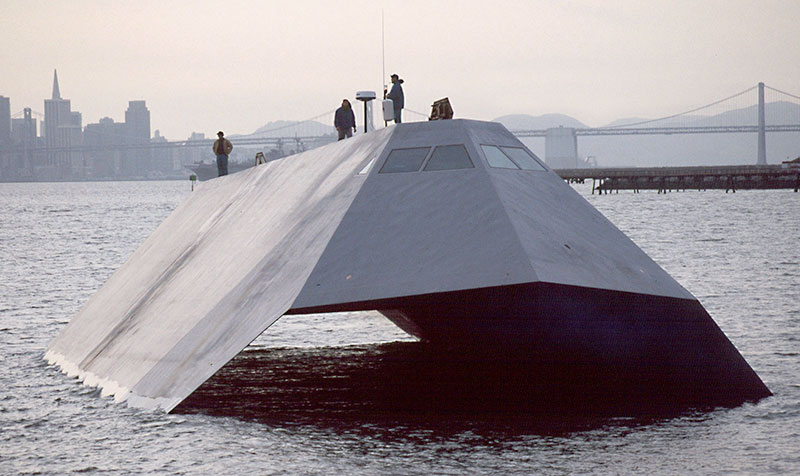 Sea Shadow (IX-529) was a test craft developed under a combined program by the Defense Advanced Research Projects Agency (DARPA), the U.S. Navy, and Lockheed Martin Missiles and Space Company (LMSC). Its purpose was to explore a variety of new technologies for military surface ships, these included automated ship control, Small Waterplane Area Twin Hull (SWATH) advantages, automation for reduced manning, rough weather seakeeping improvements with stabilizer and canard, and radar and sonar signature control. She was later used as a test platform for advanced combat systems prototypes that emphasized passive (no active radar) identification and targeting.
To keep Sea Shadow out of the public eye, she was built inside HMB-1 and delivered in March of 1985. Night tests were conducted in 1985 and '86 off the Santa Cruz Islands in Southern California with the barge keeping the ship under cover for repairs and replenishment during daylight. The tests were suspended in 1986 and not resumed until spring 1993, when the ship was unveiled. In late 1994 the testing concluded in the San Francisco Bay and the Sea Shadow and Hughes Mining Barge were moved to San Diego and were docked at the 32nd Street pier. In May of 1999 she was reactivated for additional testing. She cost approximately $50 million to build and the total test program was approximately $195 million until she was stricken in 2006.
The Hughes Mining Barge 1 (HMB-1), is a uniquely designed submersible barge. She was originally built in 1973 as part of Project Azorian, the top-secret effort by the Central Intelligence Agency to salvage the remains of Soviet submarine K-129 from the ocean floor. HMB-1 was designed to be submerged under the Glomar Explorer to secretely load the large claw device that grappled the submarine, and to conceal the recovered submarine. In many ways her tank structure is more similiar to submarine than a normal floating drydock.
After the conclusion of Project Azorian, HMB-1 was cleaned and then stored at the Todd Shipyard in San Francisco, CA until November, 1982. She was then towed to a LMSC facility in Redwood City, CA, where she was significantly modified to become the floating drydock for the construction and operations of the Sea Shadow.
Upon completion of Sea Shadow operations in 2006, HMB-1 and Sea Shadow were moved to the Susuin Bay Reserve Fleet for storage. In 2012 HMB-1 with Sea Shadow still inside was sold to Bay Ship and Yacht in Alameda, CA. They dismantled Sea Shadow and are using HMB-1 as a working ship repair drydock.
An in-depth tour of the Seashadow is available on the HNSA website.
Sea Shadow (IX-529)
Length
164 feet
Beam
68 feet
Draft
15 feet
Maximum Speed
14.3 knots
Propulsion
Two Stewart and Stevenson
diesel electric generators
Shaft Horsepower
850 HP @ 13 Knots
Maximum Payload
30 tons
Payload Volume
5330 cubic feet
Displacment
560 tons full load
Crew
10
Armament
None
Built By
Lockheed-Martin
Delivered
1 March 1985
First Daylight Ops
11 April 1993
Stricken
22 August 2006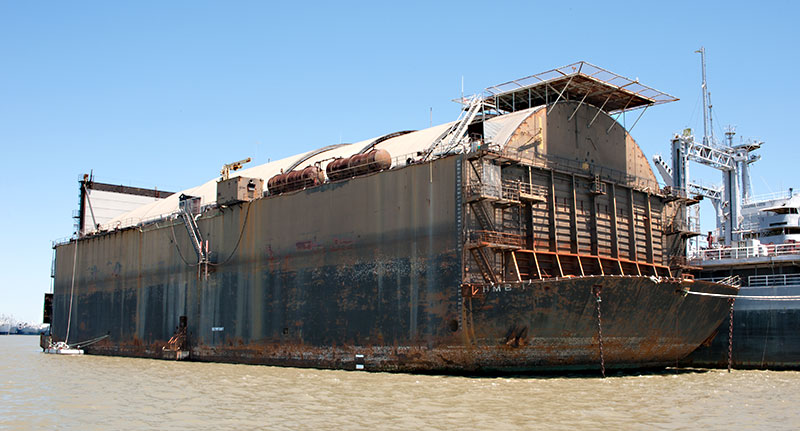 Hughes Mining Barge 1 (HMB-1)
Year Built
1974
Length
3244 feet
Beam
106 feet
Load Line Draft
13 feet
Highest point above waterline
97 feet (10 foot draft)
Cargo Capacity
6290 L.T.