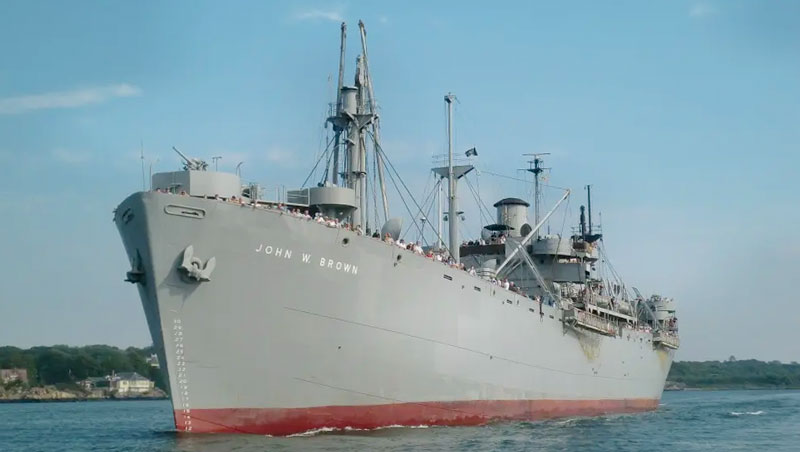 One of only two surviving fully operational Liberty ships preserved in the U.S., SS John W. Brown is a product of the Emergency Shipbuilding Program that built more than 2,700 liberty ships during World War II. Designed for quick and relatively easy construction, Liberty ships made possible the massive sealift of troops, arms, and material to all theaters of the war. The Brown was built in 56 days by the Bethlehem-Fairfield Shipyard in Baltimore.
The Brown made 13 voyages during and immediately after the war. Those voyages took her to the Persian Gulf, the Mediterranean Sea, and northern Europe. The Brown was at the Anzio beachhead and was part of the invasion force at Operation Dragoon, the invasion of southern France in August 1944. The Brown was awarded the merchant marine Victory Medal, the Combat Bar, and war zone medals for the Atlantic, the Mediterranean/Middle East, and the Pacific theaters.
After carrying Marshall Plan cargos to Europe to aid in post-war rebuilding, the ship was used as a vocational high school in New York City from 1946 to 1982. She was then returned to the James River Reserve Fleet until acquired by Project Liberty Ship in 1988. The Brown has been fully restored and is an operating museum ship and memorial.
The John W. Brown is listed in the National Register of Historic Places and has received the World Ship Trust's prestigious Maritime Heritage Award. [HNSA]
Class
EC2-S-C1 Type Liberty Ship
Launched
September 7, 1942
Length
441 feet, 7 inches
Beam
57 feet
Draft:
27 feet, 9 inches
Displacement
14,245 tons
Gross Tonnage
7,176 tons
Deadweight Tonnage
10,920 long tons
Armament
Three 3-inch/50 caliber guns
One 5-inch/51 caliber gun
Eight 20mm guns