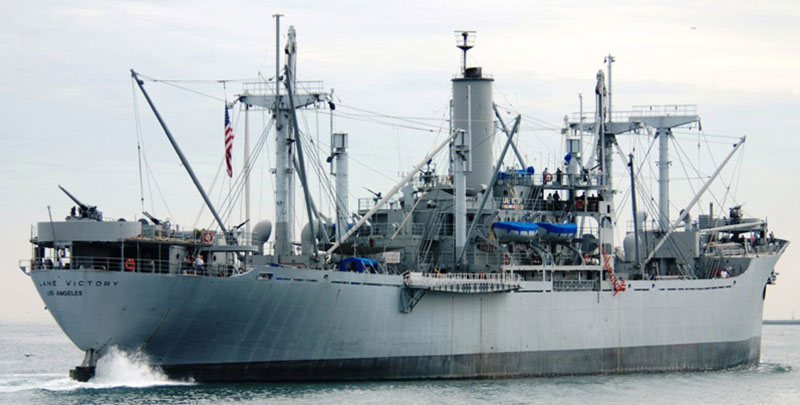 S.S. Lane Victory began her first wartime journey on June 27, 1945, in the closing stages of World War II. She delivered munitions, loaded in Port Hueneme, California to Admiralty Island in the Pacific. She went on to serve with distinction in both the Korean and Vietnam conflicts.
During the Korean War, Lane Victory's moment of glory came in December 1950, during the evacuation of Korean civilians and United Nations personnel from Wonsan. As the cruiser Saint Paul and destroyers laid down a covering fire, Lane Victory offloaded troops, vehicles and cargo. She then evacuated 7,010 men, women and children, taking them south to safety.
In September 1966, The S.S. Lane Victory joined the Vietnam War effort. She was returned to the Ready Reserve Fleet in 1970. In 1982, the U.S. Merchant Marine Veterans of World War II commenced efforts to acquire her. She was towed from San Francisco to San Pedro in June 1989.
The S.S. Lane Victory now serves as a living museum and memorial to the service and sacrifices of all Merchant Marine sailors and Navy Armed Guardsmen.
S.S. Lane Victory is a National Historic Landmark.
Ship Type
VC2-S-AP2; Hull Number V-794
Shipyard
Terminal Island Shipyard
Launched
June, 1945
Final Decommissioning
June, 1970
Length
455 feet
Beam
62 feet
Draft:
28 feet
Dead-weight Tonnage
10,750 long tons
Main Propulsion

Two forced draft fueled water tub boilers with super-heaters and economizers
One Allis-Chalmers cross compound steam turbine with double reduction gears

Steam Pressure
450 PSI
Steam Temperature
750 degrees Fahrenheit
Fuel Consumption
40 tons per day
Horsepower
6000, at 90 RPM
Propeller
19 feet in diameter
Max Speed
16.3 knots (18.75 mph)
Armament

One 5 inch / 38 caliber dual purpose mount
One 3 inch / 50 caliber mount
Eight 20mm Oerlikon anti-aircraft mounts