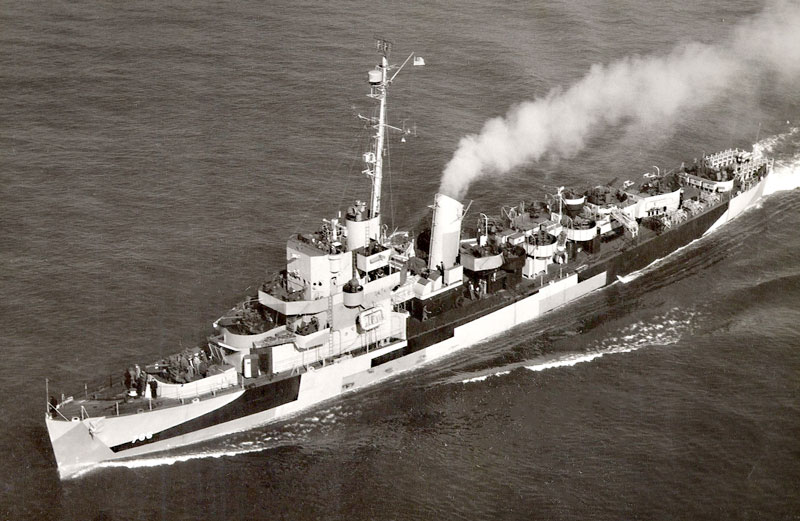 USS Slater is the only floating destroyer escort on display in North America. Out of 563 DEs built during World War II, three survive as memorial ships.
USS Slater was initially assigned to convoy and antisubmarine duties in the Atlantic. In May 1945, her torpedo tubes were removed and additional anti-aircraft weapons were added at the Brooklyn Navy Yard. She was then assigned to the Pacific theater. She was decommissioned in 1946.
While in reserve, Slater was transferred in 1951 to the Hellenic Navy where she served with distinction for more than 40 years. Through the efforts of the Destroyer Escort Sailors Association, she was donated to that organization by the Greek government and was towed from Crete to New York City's Intrepid Museum in 1993. In October 1997, Slater was moved to her permanent location in Albany, New York on the Hudson River. Volunteers are restoring the vessel to her 1945 configuration.
USS Slater is listed on the National and New York State Registers of Historic Places and was designated a National Historic Landmark in 2012. [HNSA]
A complete tour of the Slater can be found on the USS Slater Web Site.
Class
Cannon
Type
Destroyer Escort
Launched
February 13, 1944
Length
306 feet
Beam
36 feet 7 inches
Draught
12 feet
Displacement
1,440 tons
Top Speed
21 knots
Armament

Three 3-inch/50 caliber guns
Three twin 40 mm guns
Nine twin 20 mm guns
24-missile hedgehog
Two depth charge racks
Eight K-guns