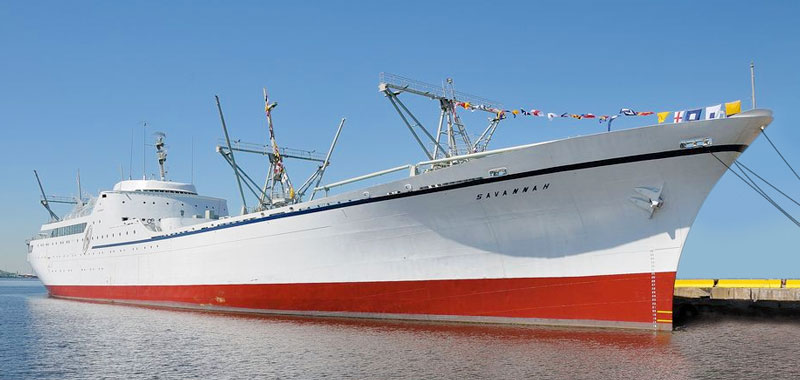 The NS Savannah was a signature element of President Eisenhower's Atoms for Peace program. It was constructed as a joint project of the former Atomic Energy Commission (AEC) and the Maritime Administration. Among its primary purposes were to demonstrate the peaceful uses of atomic power; to demonstrate the feasibility of nuclear-powered merchant ships; and to develop the maritime infrastructure (e.g., liability and insurance, port security and emergency response, shipyard maintenance and repair, etc.) necessary for subsequent nuclear-powered merchant ships
Savannah operated from 1962 to 1965 in experimental service. In 1965 the AEC issued a commercial operating license to the Savannah and ended its participation in the joint program - reverting to the singular role of regulator. Savannah continued in demonstration service as a cargo ship until 1970, after which it was removed from service; was defueled in 1971; and its reactor made permanently inoperable in 1975-76. About 95% of the power plant is intact and remains onboard the ship. Savannah is still licensed by the Nuclear Regulatory Commission (NRC, successor to the AEC), and will remain so until the nuclear facilities are dismantled, removed from the ship, and properly disposed of.
Savannah was nominated to the National Register of Historic Places in 1981. It was named an International Historic Mechanical Engineering Landmark by the American Society of Mechanical Engineers in 1983. It was named a Nuclear Engineering Landmark by the American Nuclear Society in 1991. And finally it was upgraded to National Historic Landmark status by the National Park Service on July 17, 1991.
Text in this section was provided by Rich Pekelney. An in-depth tour of the NS Savannah is available on the San Francisco Maritime Park website.
| | |
| --- | --- |
| Year Built | 1961 |
| Retired | 1972 |
| Designer | George G. Sharp, Inc. |
| Builder | New York Shipbuilding Corporation of Camden |
| Length | 595'-6"t |
| Beam | 78' |
| Full Load Displacement | 21,850 L.T. |
| Cargo Capacity | 746,000 Cu Ft |
| Main Power Plant | Nuclear Steam Generator with Geared Steam Turbine |
| Speed | 21 Knots |
| Passengers | 60 |
| Officers | 25 |
| Crew | 84 |
| Other | 16 |