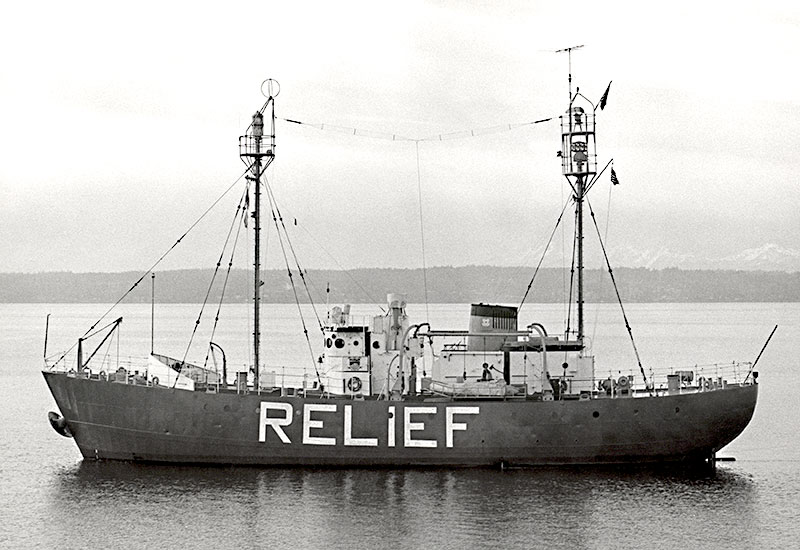 Lightship 605 - now called Relief - is one of six all-welded lightships constructed for the U.S. Coast Guard. She served for 25 years as a floating lighthouse and communications platform. Her first duty station was as Overfalls lightship station off Delaware. In 1959, she was transferred to the Blunts (reef) station off Cape Mendocino, California. In 1969, she became Relief, relieving all West Coast lightships when they left station for overhaul. She was decommissioned by the Coast Guard in 1975, and given to the City of Olympia, Washington.
Relief was purchased from the City of Olympia by Mr. Alan Hosking of Woodside, California in 1979. He donated her to the U.S. Lighthouse Society in December 1986.
In February of 1987, Society volunteers sailed the ship under her own power from Half Moon Bay back to Oakland and docked her at the Ninth Avenue Terminal in the Oakland Estuary. She remained at that location for a period of 15 years, undergoing maintenance and restoration to her 1951 appearance.
The ship was designated listed as a National Historic Landmark by the Secretary of the Interior in 1990. She was opened to the public as a floating museum in October 2002.
In 2012, the lightship was transferred to The Anchor Program, an Oakland-based maritime nonprofit that will use the vessel as a floating classroom. Volunteers with the U.S. Lighthouse Society continue to open the vessel for public tours.
Built
1950, Rice Brothers Shipyard
Length
158 feet (loa)
Beam
30 feet
Draft
11 feet
Displacement
617 tons
Speed
11.5 knots
Range
22,000 miles
Fuel Capacity
49,496 gallons
Water Capacity
13,028 gallons
Crew
1 Chief Warrant Officer
18 enlisted
Propulsion
Atlas Imperial 8-cylinder diesel
550 horsepower@ 750 rpm; single screw
Max Speed
10.7 knots
Lanterns
1964 USCG lists vessel with CG high intensity 500,000cp light on mainmast, duplex 375mm lens- lantern on fore, 13, 000cp each light
Fog Signal
Twin F2T diaphones mounted aft of pilot house
Station Assignments
1951-1960: Overfalls DE
1960-1969: Blunts Reef CA
1969-1975: Relief (West Coast)
Radio/Visual Call Sign
NKVY